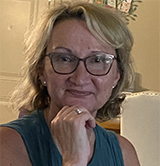 Julie Gagnon, BSN
Job/Role: RN
Years in ambulatory care nursing: 6
Starting on March 2020, we stood on the frontlines to ensure the safe care of our veterans, staff and families.
Initially we didn't have much information about COVID-19, only that it can kill. So, we had to plan and garnered any resources to safely support both patients and staff.We had to be resourceful, as our clinic is located approximately 53 miles away from our main medical center. Collectively, we designed a parking
lot screening area and 'Nurse First' encounter to safely manage patients who presented outside the clinic. We are privileged to have both high-caliber nursing leadership and nursing staff who serve as a daily inspiration throughout this unknown journey. We are akin as nationally nurses bravely responded from day one and supported each other through these challenging times. It is a privilege and honor to be a nurse.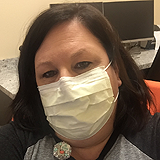 Terri Hibbs, RN, BSN, CCCTM
Job/Role: Care Navigator
Years in ambulatory care nursing: 5
Throughout my 30 years of nursing, I am blessed to be a part of my current Care Navigator group.
We work for different family medicine offices throughout our community but were pulled to staff the COVID-19 hotline from March to June 1, 2020. We worked closely with the drive-through respiratory clinic our hospital set up for potential COVID-19 patients to be seen, keeping sick patients out of the office settings.
The challenges: many calls daily and protocol changes multiple times a day. One call was from a truck driver, unable to deliver his shipment due to having a "temperature," who could not leave his delivery. The local urgent care could not see him. Working with our respiratory clinic, he was evaluated and got back on the road quickly. We are all back at our offices now, but we communicate and support each other daily.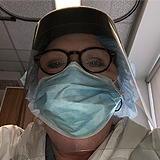 Theresa E. Lyman, RN-BC, ACLS, PALS
ASU/PACU/ICU-2
Years in ambulatory care nursing: 10
We were transferred to work in a created 18 bed COVID-19 "ICU-2" in Yonkers, NY, for 8 weeks.
None of us were ICU trained. Some of these nurses we had never met. The most uninspiring was that management/administration never came into a room. Post-pandemic, I find myself inspired by these men and women who took care of all of these patients and did it to the best of their ability, being limited in the practice of intensive care.
I find myself smiling when I speak of those that I worked with, because they are the greatest group of people that I have ever encountered - those men and women that I worked with in the trenches and created a lifelong bond that can never be broken or forgotten. When I speak of the work that we did, my thoughts always go to those wonderful people.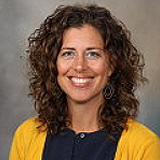 Bridget Carter, MS, RN
I am a Nursing Education Specialist and I cover telehealth nursing as well as the primary care triage nurse line across the Midwest, Arizona and Florida.
Years in ambulatory care nursing: 8
I had returned from vacation on March 10, 2020, and was instructed to come to work the next day to teach nurses how to triage for the COVID-19 nurseline.
The first several weeks were a whirlwind. Inpatient nurses were assigned to the nurseline every day. They had never seen the ambulatory chart or talked to a patient on the phone. Our processes changed several times daily.
I taught a new group of nurses frequently as we tried to meet the needs of our patients. Many of our inpatient nurses were pulled back to their units to prepare for an influx of admissions. Our ambulatory nurses were then shifted into the COVID-19 nurseline with less of a learning curve.
Now, almost 6 months later, I continue to train a new group of nurses twice a week to help cover the needs of our patients (over 1000 calls/day).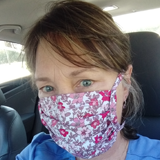 Monika Fenner, MSN, RN, CNRN, CCRN
Ambulatory Infusion Nurse
Years in ambulatory care nursing: 2
As an Infusion nurse, I share my experience with coworkers and patients who may be reluctant to wear a mask.
On Leap Day in February 2020, our family flew to Las Vegas for our daughter's wedding. The following weekend, my husband, Dave, had a head cold. That Monday he was sent to the hospital for pneumonia; I have NEVER seen a pneumonia like this one.
After multiple lab work, X-rays, and a bronchoscopy, he was discharged after a 4-day hospitalization. I remained in quarantine to care for my husband. Armed with an albuterol inhaler, pulse oximeter, and a TV tray (this was how I proned him), slowly he improved.
There were days I thought he might die; his saturation would range 86% on a "good day." In mid-July, Dave was tested for COVID-19 antibodies; no surprise he was positive. He continues to struggle with some health issues as his body is just not the same.

Heather Hansen, RN BSN
RN Nurse Triage Manager
Years in ambulatory care nursing: 16
Our daily practice as telephone triage nurses has seen a 180-degree change in our call symptoms and advice.
We have transitioned our normal primary care telephone triage to a COVID-19 hotline for our large university medical center. We went from taking 200 calls per day to a record breaking 400-450 calls per day.
My team has been instrumental in preventing COVID-19 exposures to our clinics, keeping patients educated on this novel virus and adequately dispositioned to the appropriate level of care to keep our community safe. My team of nurses deserves all the accolades; they have remained fluid to the many daily changes that have come with this evolving virus.
This just shows the flexibility and compassion that telephone triage nurses have to our patient populations during this global pandemic.
Suzy Dailey, RN-BC, CCCTM
Clinical leader, large hospital-based clinic.
Years in ambulatory care nursing: 15
What inspired me most was how the crucial value of the telephone triage nurse was highlighted front and center throughout the COVID-19 pandemic.
Abrupt staffing reconfiguration and deployment of staff to acute care settings left skeletal staffing at our site, leaving just one RN and one PA "in house" to triage and manage all of our patients' health care needs during this extraordinary time.
The triage RN literally became the lifeline for our patient community during the COVID-19 surge. We worked tirelessly triaging an endless volume of acute COVID calls.
More importantly, we proactively outreached to keep our most vulnerable and at-risk patients engaged in health care by ensuring that all of their non-COVID-19 symptoms and chronic health care needs were appropriately assessed and coordinated where their normal access to health care was so restricted. I've never felt more empowered and proud as an ambulatory care telephone triage nurse.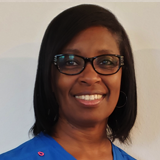 Kimberly Vaughan, RN, BSN
RN Care Manager, coordinate care for veterans
Years in ambulatory care nursing: 10
What has changed about your daily practice? "Be sure to wear your mask for your protection and safety."
I currently work in an Ambulatory Primary Care Clinic with the VA on a Patient Aligned Care Team (PACT). Since the outbreak of the Coronavirus in March 2020, the daily practice for our outpatient clinic has changed significantly.
Changes that have been incorporated into practice consist of patients and employees wearing a mask, and screening outside the clinic to check temperature. Patients then enter the waiting room and are seated six feet apart. Patient charts identify whether patients have been tested for COVID-19 and their results.
Face-to-face visits have been brought to a temporary halt and telephone visits and video visits have increased immeasurably. Designated COVID-19 rooms are in place, there is social distancing within the workplace, and daily and frequent cleanings are scheduled.

Inger Donohue, MSN, RN, CPHQ
Job/Role: Director of Quality and Clinical Services
Years in ambulatory care nursing: 20
With more than 300 practice locations, effective communication is important to keeping our patients and team members safe. When COVID19 hit, a variety of clinical workflows and algorithms were quickly created to provide safe care and were shared across all practices.
Clinicians and team members were supported through regular check-in calls, emails, with access to dedicated email and telephonic resources. A community telephone hotline, staffed by our team members, was established.
Our team members provided clinical and operational support at our drive through COVID19 testing tent. We have so many unsung heroes. The teamwork and dedication shown by our front line ambulatory care team members is truly remarkable.
They supported our patients and each other with care and compassion, and true heroism throughout the surge that we experienced. They were scared, resourceful and resilient, and we cannot thank them enough for coming to work every day and providing extraordinary caring!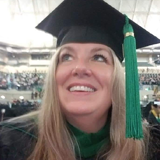 Vivian Owens, MSHI-HA, RN, CIP, CIPPE
Job/Role: Retired
I received bad news post-colonoscopy given to me while under effects of Propofol.
I ended up scheduling another colonoscopy followed by possible surgery, if needed. I was told that my husband could be present for a short time before surgery and recovery, but not the colonoscopy and that he could visit me at the hospital post-surgery, but was limited to the hours of 1 to 5 pm.
I had a successful colonoscopy; however, the next day I ended up in the ER. While there, I witnessed a patient screaming and crying because their spouse wasn't allowed. I believe that one of the biggest and often overlooked challenges is communication and family involvement.
I challenge health care professionals to extend communication channels beyond the patient due to restrictions placed on family members and friends being present. Healthcare can be overwhelming and scary, even for a nurse with years of experience.