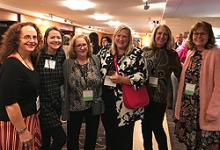 AAACN was well represented at the Collaborative Alliance for Nursing Outcomes (CALNOC) conference last week in Seattle, WA.
Members spoke on panels, presented posters, and represented AAACN in the exhibit hall.
Learn more about AAACN's work with CALNOC and nurse-sensitive indicators.
---
Pictured below (l-r): AAACN NSI Report Co-Editor Ann Marie Matlock, President-Elect Kathy Mertens, Member Karen Bauer, AAACN NSI Report Co-Editor Rachel Start, Immediate Past President Debra Cox, Member Stephanie Witwer.