The strategic plan is the visionary and guiding document for creating the future of the American Academy of Ambulatory Care Nursing (AAACN).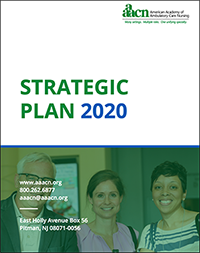 During fall 2019 and winter 2020, AAACN senior staff and leadership began their journey to develop the next AAACN strategic plan. The process included a discovery session and a planning session, and laid the foundation for what is now the AAACN 2020-2023 Strategic Transformation Plan. It includes goals and strategies in the areas most important to AAACN:
The profession we represent and serve
The foundation of our association and the lifeblood that feeds our inspiration
And the experience of our members and key stakeholders
In addition, AAACN is fully committed to being an inclusive and equitable organization. In summer 2020, we added a fourth goal and supporting strategies to ensure our organization fully represents the diverse nature of our membership, key stakeholders and the individuals we serve.
The strategic transformation plan will serve as our guide for the next 3 years and will have an impact for years to come.
Read the 2020-2023 AAACN Strategic Transformation Plan.
Watch other AAACN Videos at our Youtube Channel.