The Veterans Affairs SIG provides a forum for VA ambulatory care nurses to discuss problems, share solutions and creative programs; and keep in touch across the country.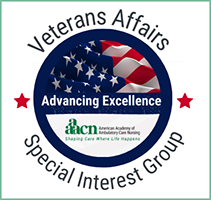 Goals
To promote the American Academy of Ambulatory Care Nursing (AAACN) initiatives related to Standards of Care and Practice.
To provide the opportunity to enhance collaborative relationships.
The VA SIG communicates on a periodic basis with its membership via articles in the AAACN ViewPoint publication, as well as via the VA SIG Community. We also hold monthly conference call meetings (SIG members are invited via eblast and the Community).
Chair
Andrea Kossoudji, MBA, MS, RN, AMB-BC
Chair-Elect
Patrick Turpin, MSN CNS
Past Chair
Sandra Guerrero, MSN, RN, AMB-BC, CNL
Board Liaison
Cynthia Murray, BN AMB-BC LNC
Advisory Committee Members
Eleanor Chapital, MSN, RN, AMB-BC
Sarah Espin, MSN, RN, AMB-BC, VHA-CM
Julie Vatel, MPH, BSN, RN-CCCTM
Each SIG has its own Community for all your networking needs, providing archiving of discussions, a document library, a search feature, digest options, customizable profiles, access to fellow SIG members, and more. The Community also adapts to the use of mobile devices. Take advantage of your most valuable membership benefit – convenient access to colleagues in your practice area.
Build Community and Content with your Colleagues - Enter a place for knowledge exchange, content curation, idea incubation, and professional networking.
Join the Discussion - Ask or answer questions with your peers. Our dynamic discussion forums provide the tools you need to communicate with leaders and partners in your field.
Browse the Document Library - Search and find content & media when you need it. Build a knowledge base of industry best practices, sample documents, spreadsheets, pictures, videos, and more.
To visit the Connected Community and/or join SIGs:
Log in as a AAACN member.
On the All Communities page, you will see all SIGs are you already part of, and options to join any SIGs you are not currently part of.
Click on your SIG(s) Communities to visit, or click "Join Community" on the right side of the page, select your email digest preference, and you're set!
Members of AAACN may join as many SIGs as desired. Join the conversation today!
If you have any difficulty getting into the community, please contact AAACN for assistance.