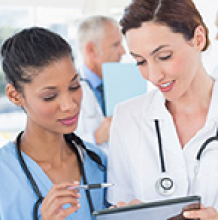 Access the FREE archived NSI Webinar: Ambulatory Care Nurse-Sensitive Indicators: State of the Industry, (held on June 20th) in the AAACN Online Library.
How do you quantify ambulatory care nurse value with metrics?
What Nurse-Sensitive Indicators (NSIs) are you using in ambulatory care?
We know that nurses are extremely valuable members of the ambulatory health care team. But how do we quantify their impact on patient care and outcomes?
We're bringing the latest evidence to you in a new webinar, "Ambulatory Care Nurse-Sensitive Indicators: State of the Industry." We'll share information from AAACN's just-released Ambulatory Care Nurse-Sensitive Indicator Industry Report.
Access the FREE Archived Webinar in the AAACN Online Library
You'll learn about:
The evidence behind NSIs in ambulatory care.
Existing NSIs with recommended changes for more meaningful use in ambulatory care.
13 newly proposed measures that uniquely reflect the role of the RN in the ambulatory care setting.
How to use NSIs to enhance quality reporting and national benchmarking to drive nursing excellence.
How the indicators are being developed and pilot tested.
Earn 1.0 contact hour.
The transformation of health care is moving at a rapid pace and is increasingly focused on ambulatory care settings. As inpatient admissions and overall length of stay are decreasing, ambulatory visits are increasing. This shift is prompting an urgent need for ambulatory care nursing leaders to demonstrate the value of the role of the RN in ambulatory care.
Be one of the first organizations to join in new national benchmarking of meaningful nurse-sensitive indicators in ambulatory care. These newly developed NSIs will also assist organizations in meeting standards for the Pathway to Excellence Program® and Magnet Recognition Program®.
---