This is What it Looks Like to 'Love All, Serve All'
'I think I had forgotten the power of the words "I am a nurse." I remembered on that cold winter day just how trusted we are and how we should never forget why we became nurses.'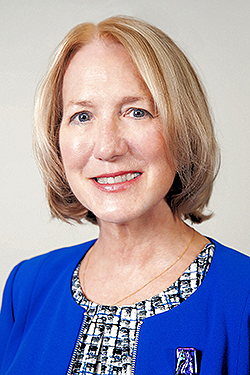 Eileen Esposito, DNP, RN, AMB-BC, CPHQ
Eileen Esposito, DNP, RN, AMB-BC, CPHQ, is a bright light in the nursing world. She bats around ideas and generates waves of energy during meetings with her fellow directors on the AAACN Board, often raising her arms and lifting up slightly from her seat to emphasize a point, like an athlete poised to serve the ball.
Her passion is promoting health and preventing disease. She's determined that all patients get equal care and not a single one falls through the health care system's cracks.
These areas are a top priority for her as Vice President, Ambulatory Clinical Practice and Quality at Catholic Health on Long Island, NY. They are also the elements of practice that led her to fall early and hard in her career for ambulatory care nursing.
She's stayed true to what drew her to the specialty, and a scan of her more recent accomplishments reveals a dizzying amount of innovation and success.
Her highlights reel would likely show her completing a long pass to transform a clinical program, calling a run play for a new population health initiative, taking a quick timeout to ensure staff was well-educated and healthy, then finally kicking a point after that sails gracefully between the uprights of efficiency and cost savings.
To trace back the career of this nimble and observational leader, we asked Eileen to describe her nursing roots, the experiences that shaped her, and what lies ahead.
What inspired you to become a nurse?
My mother always wanted to become a nurse but circumstances prevented her from achieving her goal. She instilled a love for nursing in me from an early age. I remember wearing a nurse costume for Halloween in kindergarten. As I got older, the desire to help people achieve their health goals became a true passion for me.
Describe your nursing and leadership career path and why you made the choices you did.
When I was a senior in college, we were offered the opportunity to do an externship in the field of our choice. I chose to do mine in public health with the local health department. It was an amazing, eye-opening experience. I was able to see how patients coped with their illnesses and post-surgical conditions at home.
It gave me a greater understanding of the effectiveness of the post-operative teaching we did in the hospital and how patients often needed to improvise with items that had at home to achieve full healing. It made me more conscious of the cost of medical-surgical items and how patients did not have fully stocked supply carts to pull items off of like we had at work!
After my externship, I worked on the inpatient floor for a few years until the opportunity arose to be part of a team of nurses that opened a brand-new tertiary care hospital. I secured a position in the outpatient high-risk OB/Gyn clinic and fell in love with ambulatory nursing. I became the nurse manager of the clinic a year later and then became the assistant executive director of ambulatory care 2 years after that.
I have been in leadership positions ever since with the goal of inspiring nurses in ambulatory settings to be clinicians, educators and advocates for the disease-prevention and health promotion agenda that is uniquely ambulatory care.
What is your current job and what challenges are you facing?
I'm currently the Vice-President of Ambulatory Clinical Practice and Quality for a large health system located on Long Island, NY. I'm responsible for assuring that the standard of care is adhered to every day for every patient.
"We truly embrace the "love all, serve all" mentality regardless of a patient's ability to pay. My team focuses on "gap in care closure," assuring that all patients who need preventive care are able to access it."
We truly embrace the "love all, serve all" mentality regardless of a patient's ability to pay. My team focuses on "gap in care closure," assuring that all patients who need preventive care are able to access it.
We engage patients in their care and honor them as important team members. We respect their beliefs, values, and preferences, and we coach them to create care goals that are realistic and achievable.
What is the single most inspirational thing that ever happened to you as a nurse?
One night when I was leaving work, I found a woman crying and wandering around the parking garage as if she was lost. When I approached her, I asked what was wrong, and she said her brother had just died. She was inconsolable and dazed. I spoke softly and said "I am a nurse, I will help you."
She fell into my arms and sobbed. I was able to console her, and once she regained her composure, I flagged down a security guard who then helped her find her car. In that moment, I felt she trusted me, as I was a nurse and she knew I would help.
As an administrator, I think I had forgotten the power of the words "I am a nurse." I remembered on that cold winter day just how trusted we are and how we should never forget why we became nurses. It was a powerful, human soul connection that I will never forget.
What motivates you as a human and as a nurse?
I love to connect with people and motivate and coach them to become a better version of themselves. I am inspired by Nola Pender's Health Promotion Model and view this theory as uniquely ours as ambulatory nurses.
What would you say to other nurses considering ambulatory care as a specialty?
Ambulatory care nurses are the most independent of all nurses and we are able to assess patients without instruments, listening carefully to respirations as patients speak over the phone, listening for subtle cues and asking focused questions.
'Ambulatory care nurses are the most independent of all nurses.'
Our assessment skills need to be top-notch as the decisions we make in a telephone triage conversation can have lasting impact on the patient's outcome.
I would also tell them that they will never be bored! Ambulatory care nursing is exciting and progressive; it is ever-changing and growing as a field.
Reported by Janet D'Alesandro, AAACN Media and Communications Director,
November 2021