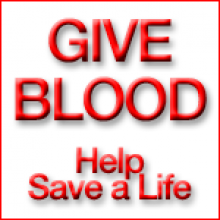 January is National Blood Donor Month!
You don't need a special reason to give blood.
You just need your own reason: Some of us give blood because we were asked by a friend; Some know that a family member or a friend might need blood some day; Some believe it is the right thing to do.
Whatever your reason, the need is constant and your donation is important for maintaining a healthy and reliable blood supply.
Find out where to give blood, and feel good knowing you've helped change a life!
---

About Health Bytes
AAACN Heath Bytes is an informative and helpful listing of hot topics, awareness, and articles that may make your life easier and more enjoyable. The Health Bytes appears in the monthly email newsletter and will also be posted on the AAACN Website.
-------------
dd
Stuff below is a headstart for many articles. delete them if not needed.

Visit the AAACN Career Center and read the full article     Find Jobs
LINKHERE/?type=url&source=aaacn-hmpg-lndg-readarticle