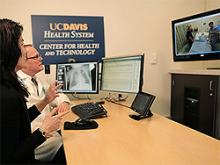 UC Davis investigators have found that telecommunication systems that provide remote monitoring and access to specialty care in intensive care units (ICUs) are cost-effective in most cases and can even be cost-saving in certain circumstances, making this intervention potentially economically favorable compared with other health-care services.
Such information is important to hospital administrators who must make decisions on how to efficiently spend available resources to provide lifesaving services and equipment. Read more about it.
Photo credit: © Regents of the University of California, UC Davis Health System, 2016. All rights reserved. Used with permission.
---

About Health Bytes
AAACN Heath Bytes is an informative and helpful listing of hot topics, awareness, and articles that may make your life easier and more enjoyable. The Health Bytes appears in the monthly email newsletter and will also be posted on the AAACN Website.