Ready to Lead in a Changed World
She may not have realized it, but the career path of AAACN's new president, Anne Jessie, was grooming her to lead during one of the most chaotic times in world history.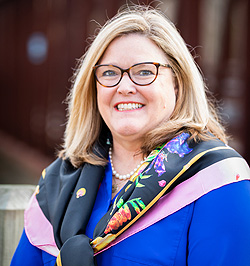 Anne Jessie, DNP, RN
Anne Jessie is not a planner. She prefers to listen to her heart and her gut when making life decisions.
So the timing is interesting that such an adaptable person finds herself at the helm of a national nursing association during one of the most uncertain, unpredictable, and intense times in memory.
"During this challenging year, I've learned the importance of demonstrating to health care systems, health care and community leaders, and policymakers that innovation can't wait. We need to remain flexible and nimble to address the needs of those we serve and not allow personal agendas or resistance to change stand in the way of doing what is right."
So, in a year of forced pauses, we asked Jessie to take a short break from her responsibilities as AAACN president, which she began in July, and her job as Senior Director, Population Health and Innovation, at Gorman Health Group, to tell us how she got here and how she plans to lead during these times of health, racial, and political upheaval.
2020 has been such a chaotic and challenging year. How has this affected you and what have you done to cope?
Chaos is the operative word. All of us have experienced varying degrees of personal and professional loss and disappointment, but we have also seen amazing changes in health care delivery that -- under normal circumstances -- would have taken years, actually be accomplished in days. As far as my own coping, like many others, I've found peace in rediscovering old hobbies and focusing on family and friends.
As a leader and executive, what strategies have you used in 2020 to help your colleagues and other nurses cope?
We've allowed a safe environment for colleagues to voice their fears and concerns, and encouraged peer support through networking. We've also recognized and celebrated accomplishments in patient care delivery while allowing for work flexibility – working from home and caring for and schooling children. Employee assistance programs have been provided and other resources for support and counseling have been offered to those who are struggling.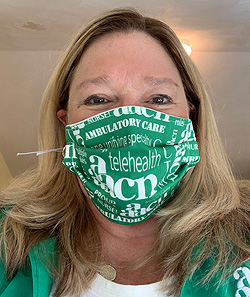 Anne sports her AAACN mask during the
Fall 2020 AAACN virtual board meeting.
Key to all of this has been frequent, open, and transparent communication with staff and teams, and often just recognizing we may not yet have an answer or solution for issues that are currently arising.
During this challenging year, what key things have you learned that will change you (or your practice) moving forward?
Safe, efficient, and effective health care can be provided virtually and is satisfying to both patients and providers. We can't go back to the old model that everything has to occur face-to-face.
Standards need to be developed that dictate what can be virtual and what has to be face-to-face. Payment models need to follow, and barriers to practice removed, such as ineffective technologies and hurdles to multi-state licensure.
Let's look back for a moment. How did you find AAACN?
It was 2008, just before the Annual Conference in Chicago. I was pursuing my MSN and accidently found the AAACN Website while doing homework. I pored over it and immediately felt like I had found a professional home. There were so many amazing tools and resources that filled the practice-specific void in my approach to leadership in my ambulatory care setting.
I attended the conference and was immediately hooked. I remember meeting Susan Pashke, Nancy May, and Marianne Sherman. I later cold-called Nancy (who was Director of Ambulatory Care Nursing at Cleveland Clinic) to ask questions about Cleveland Clinic's leadership structure. She was so gracious and very patient with my questions. Every AAACN leader I encountered was approachable and genuine, and I immediately developed a sisterhood. By the way, I haven't missed a conference since that first one in 2008!
"AAACN catapulted my career. Everything that has been positive in my career path can be directly linked [to AAACN] and the relationships I've developed with AAACN members and leaders."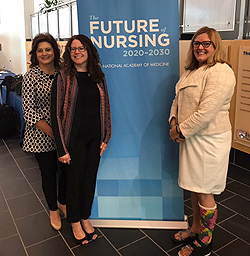 Anne attends the 2019 Future of Nursing
Town Hall in Philadelphia with Immediate
Past President Kris Grayem (far left)
and CEO Linda Alexander.
You've done a lot of AAACN volunteering, from writing a Core Curriculum chapter to participating in the 2018 CCTM summit. What fuels your passion?
My volunteer work started with an invitation from AAACN leaders to get involved: First, Linda Brixey asked me to help with the revision of the Orientation and Competency Assessment Guide, then Susan Pashke invited me to volunteer on the Role of the RN Position Paper task force.
When Beth Ann Swan and Sheila Haas announced their work plan for developing Care Coordination and Transition Management (CCTM®) resources, I approached Beth Ann and told her about my job experience with care coordinators, my passion for the CCTM role. I asked if I could be involved. The rest is history – I participated in all phases of CCTM development.
Meeting and working with nurse leaders on projects from across the country and then connecting with them at Annual Conferences has been incredibly rewarding. I'm richer personally and professionally from the experience of knowing and developing deep friendships from this group of exceptional leaders.
What has AAACN done for your career, personally and professionally?
AAACN catapulted my career. Everything that has been positive in my career path can be directly linked to my volunteer activities with AAACN and more importantly, the relationships I have developed with AAACN members and leaders.
What originally inspired you to become a nurse?
I was always good with people and loved biology when I was in high school. It was the science that drew me in, not necessarily nursing as a profession. Nursing was a practical (and employable) vehicle to learn and use the science.
Having become a nurse, I now take the utmost pride in my profession and value the flexibility it provides in terms of the variety of jobs and practice settings available. However, I'm still drawn to the science and the evidence that drives our practice.
Your path started in labor and delivery, then you moved to operations, management, and quality roles. Tell us about your choices.
I fell in love with OB during a clinical rotation in nursing school. I never thought I would leave L & D, but I needed more of a Monday to Friday work schedule. Maternal-fetal health will always be my first love and the beginning of my interest in evidence-based practice and population health management.
As far as management, I was drawn to roles that offered expanding leadership opportunities – team lead, manager, director – over ones progressing to multiple clinics and service lines.
With the exception of the last few years, I actively sought jobs in clinics with a link to medical and nursing education that included care for the under-served. Both were important to me in order to give back and nurture caregivers for the future.
While the last few jobs that I have had did not have a medical education component, I have deliberately sought employment focused on improving care for the disadvantaged and for Medicare patients.
What I've enjoyed most about my professional career has been learning the basics of operations in a single clinic and taking on the challenge of managing larger and more diverse clinics and the unique management needs they required.
Most of all, I have always looked for the next challenge. I love building or enhancing a structure /process that didn't exist before. It's like working on a puzzle that needs to be solved.
Why did you become a leader?
I've been in leadership roles since high school and was vice-president of my nursing school class at the University of Virginia, which led to other leadership activities while I was there.
I once told my nephew – who always seems to be tapped for leadership roles – that I feel an inherent drive to lead that I can't ignore. It seems like my heart always guides me at the right time for the next step.
Never did I intentionally map out the progression of my leadership roles, but I have followed my instincts, an approach that serves me well. I evaluate opportunities as they arise, rather than having a defined 5-year leadership plan.
The same applied when I decided to earn my MSN and DNP degrees. Never did I ever imagine that I would achieve a doctorate degree!
What are your main goals during the next year as AAACN president?
I will work with the AAACN Board and CEO Linda Alexander to lead AAACN into the future using the 2020-2023 Strategic Transformation Plan, thoughtfully considering today's challenging environment and what that means not only for AAACN, but for all associations in the future.
We'll also focus on purposefully driving and incorporating diversity, equity, and inclusion into the fabric of AAACN as we attract members, recruit volunteer leaders, seek partnerships with other associations, and of course, advocate for patients. In addition, we will continue to promote and design ambulatory care models that account for gaps in care driven by inequity, social injustice, and lack of access for patients to essential resources.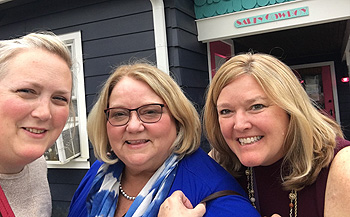 Joined by Rachel Start (far left) and Nancy May, Anne
takes a selfie break at the 2018 AONE Annual Meeting in
Indianapolis, IN.
Another priority in the year ahead is helping to define AAACN's role in advocacy. To achieve this, we'll proactively educate members on the nurse's advocacy role, highlight areas on how to get involved, and illuminate causes that affect care delivery in the ambulatory care setting.
Please describe your current job.
As Senior Director, Population Health and Innovation at Gorman Health Group, I focus on population health management, particularly with value-based care. I work with payors and health care systems to analyze data to identify patients when there is opportunity to better manage them, avoid unnecessary costs, and improve their health outcomes through targeted interventions delivered by interdisciplinary teams led by RNs. Basically, it is CCTM on steroids!
The outcome is patients get better care and insurance companies and health care systems save money and can funnel income back into care programs. Much of the work is innovative, but always focused on improving the health of populations served and the Quadruple Aim.
What motivates you as a human and as a nurse? As a leader and manager?
I'm very motivated by opportunities to make someone's life better by providing care they wouldn't otherwise have or by finding resources that are needed so patients can experience the most out of life that is possible.
What motivates me as a leader and manager is building a team and recognizing the moment when they come together cohesively to solve a program or get a job done, while respecting diversity and the value that each member/leader brought to achieve the goal.
"Safe, efficient, and effective health care can be provided virtually and is satisfying to both patients and providers. We can't go back to the old model that everything has to occur face-to-face."
Any words of wisdom to nurses about caring for themselves right now?
Be self-aware and recognize when your well is dry. Turn off the news and do activities that fill you up spiritually and replenish you. Find ways to take a break from caregiving, childcare, and even volunteering. Read something that doesn't have anything to do with work, politics, and nursing like beach reading.
Always plan something to look forward to even if just a small event or activity.
Be sure to take care of your own health, and speak up if you need professional support. Our patients, colleagues, families and friends need you!
Reported by Janet D'Alesandro, AAACN Media and Communications Director.
October 2020