Caring for Those Who Make the Ultimate Sacrifice
Sana Savage is a soft-spoken woman. She doesn't need to speak loudly because the sheer volume of her life's work echoes and reverberates throughout the many communities she has served.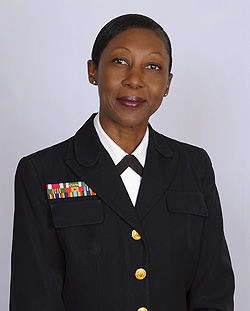 Commander Sana Savage, PhD, DNP, FNP-BC, RN-BC
The United States Navy and AAACN have something in common: Both are lucky enough to have for many years the service of Commander Sana Savage, PhD, DNP, FNP-BC, RN-BC.
This is a woman whose contributions to the world at large are fueled by the most powerful force there is: an unerring desire to serve.
"Leadership is a choice. My desire to serve has catapulted me into being a servant leader. I am fulfilled and my soul rejoices when others grow and prosper, when organizations make great achievements and contributions to society through sound leadership."
Dr. Savage's community service list is as broad and long as her military and nursing contributions, including volunteer work for such organizations as Habitat for Humanity, Make-A-Wish Foundation, the Red Cross, and many more.
AAACN is also benefiting from Dr. Savage's philosophy to live a life in the service of others: she is currently serving for the second time as a director on the organization's Board of Directors (BOD). (She also served 2007-2009.)
As far as her naval career, she began as a staff nurse at a Naval Hospital in Maryland in 1992, rising through the ranks and filling many roles – including service in Japan and Bahrain – earning a long list of commendation medals, honors, and awards for meritorious service. Having achieved the rank of commander, Dr. Savage retired from the Navy in 2020.
We sat down with Dr. Savage recently to learn more about her extraordinary career path and how she has achieved such a broad impact on so many people.
Please tell us about your career in the Navy, and why you made the choices you did.
My nursing and leadership career path began as a nursing assistant. Serving in the United States Navy, I had the opportunity – and benefited from – exposure to a wide range of nursing specialty and skills. My inpatient experience included medical surgical, ICU, OR, and ED nursing. In the outpatient/ambulatory side, I had the opportunity to work not only in primary care family medicine, but also in ophthalmology and dermatology. I gained further skills, knowledge, and leadership working in home health care during my off-duty hours.
What about your current job?
Having retired from the Navy, I now work as a family nurse practitioner, serving soldiers and their families (pretty much a continuation of my naval service). I enjoy taking care of the population that makes the ultimate sacrifices to protect our nation.
'I enjoy taking care of the population that makes the ultimate sacrifices to protect our nation.'
Nothing beats the satisfaction gained from the gratitude of a service member or family member for improving their physical and mental wellbeing.
What originally inspired you to become a nurse?
I was born a nurse. I came to this earth with the innate desire to be a nurse and that's how I have always carried myself since childhood, always being compassionate and caring, looking out for the downtrodden.
What's the single most inspirational thing that ever happened to you as a nurse?
I was recently inspired as a nurse leader while listening to a nurse who was set on fire by a disgruntled employee. She sustained third-degree life-threatening burns and lived with the disfigurement to tell the story.
'Nothing beats the satisfaction gained from the gratitude of a service member or family member for improving their physical and mental wellbeing.'
It was inspirational in that, as a nurse leader, it made me realize that we must not only advocate for our patients but also for our peers and colleagues – junior and senior workers – and ensure a safe environment for all. This nurse's leadership failed her when she complained about the threats to her life. Her ordeal and courage have inspired and emboldened me to speak out on violence against nurses.
How did you find AAACN and when?
I have been with AAACN since 1999. I learned about the organization through my Senior Nurse Executive (Captain Debra Janikoswski, USN, Ret.) who was a member of the Board of Directors at that time. She is a fervent supporter and trailblazer for ambulatory care nursing. I have been in love with AAACN since then.
Can you tell us about some of your primary AAACN roles?
I have had various roles and made several contributions to AAACN. As a volunteer leader, I served on the Planning and Nominating committees before joining the Board of Directors. I have participated in several task forces and was the liaison to the BOD for AAACN's Special Interest Groups (SIGs). I also served as the Navy Chair on the Tri-Service SIG.
I've been a reviewer and contributor to ViewPoint as well as AAACN textbooks including the Core Curriculum for Ambulatory Care Nursing. I've also been a facilitator/moderator at various sessions during AAACN Annual Conferences.
What has AAACN done for you, personally and professionally?
AAACN has been the springboard for me to contribute to the nursing profession and not only meet and collaborate with esteemed leaders, but also develop my own leadership skills and advance my career.
What motivates you as a human and as a nurse?
Healing motivates me, success and seeing others blossom motivate me as a nurse and a human being.
What would you say to other nurses considering ambulatory care as a specialty?
Ambulatory care is an extremely multifaceted specialty that offers exponential growth. It requires a broad knowledge of nursing, health sciences, and leadership as we provide acute and chronic care across the lifespan.
You can work in almost any setting, from schools, universities, and community clinics to ambulatory surgery and diagnostic procedure centers. You can find your niche and grow as you desire.
Any thoughts about the current state and future of health care?
The significance of ambulatory care nursing will continue to grow as the health care landscape changes. The impact of the COVID-19 pandemic and others forecasted is an opportunity for nursing and public health to collaborate in improving the health of our nation.
Traditional ambulatory care nursing roles have taken on a new urgency to mitigate the spread of COVID-19. As the CMS program "Hospitals Without Walls" evolves, I believe ambulatory care will need to evolve also into a "Setting Without Walls," to develop plans, resources, and operational designs to facilitate, leverage, and support inpatients and transition to outpatient care.
Reported by Janet D'Alesandro, AAACN Media and Communications Director,
November 2021