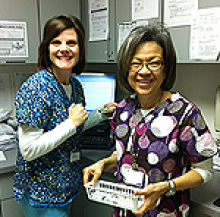 AAACN is seeking qualified candidates to serve on the 2017 & 2018 Program Planning Committee.
This volunteer position is a two year commitment that kicks off with a meeting at the 2016 annual conference In Palm Springs.
Responsibilities:
Review and evaluate abstracts.
Select appropriate topics and speakers for the program.
Assure content is congruent with AAACN Ambulatory Care and Telehealth Administration and Practice Standards.
Follow up with speakers as necessary.
At annual conference, participate in all activities assigned to committee members.
Candidate Qualifications:
Active member of AAACN.
Knowledge and experience in ambulatory care nursing.
Knowledge of current ambulatory care nursing issues and trends.
Knowledge and experience in applying principles of education.
Experience in planning CE activities preferred.
Participate in conference calls, sometimes held weekly, and respond to email in 48 hours.
Must commit to attending 2016, 2017, and 2018 annual conferences. (Members of the committee receive complimentary registration to the conference and partial room reimbursement for the 2017 & 2018 conferences.)
If you are interested in helping to plan the conference sessions for the 2017 & 2018 AAACN annual conferences and meet the above qualifications, please send a statement of interest including any background you have planning nurse education and a copy of your CV/resume to aaacn@aaacn.org by February 15, 2016.
Please be sure to indicate you are volunteering for the Program Planning Committee in your response.