Former American Academy of Ambulatory Care Nursing (AAACN) President Kathy Mertens, DNP, MPH, RN.

By Janet Perrella-D'Alesandro - AAACN communications director and enews managing editor.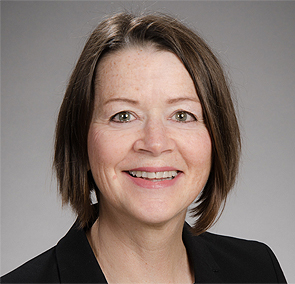 "As I sat with the patient, I thought, 'Please don't die while I'm here.' I knew what hospital nurses do, but being in the patient's home was different. It was more about listening and understanding how this patient dealt with her illness."
AAACN President Kathy Mertens, DNP, MPH, RN, opens up about her leadership path - from caring for patients in remote villages in Alaska, to reaching the top levels of executive management, to leading a major national nursing organization
Kathy Mertens was in her third year of nursing school, on a trip for her first public health clinical rotation. The nursing students were going to a Winnebago Tribe (now Ho-Chunk Nation) area north of Baraboo, WI, when she volunteered to stay overnight with a patient suffering from scleroderma.
"My nursing professor asked if one of the students would stay overnight with the woman. The patient's mother, a matriarch in the community, had just died. Family members who would normally stay with the chronically ill woman overnight were taking part in funeral events. I don't know exactly why, but I volunteered. I was curious."
Curiosity doesn't sit quietly in a corner of Mertens' psyche, tapping its fingers. It's more of a booming engine, driving her forward, fueling decisions and a career of more than 30 years. It's propelled her to take the road less traveled, even if that road led to remote Alaskan villages or to creating nursing interventions and programs in a health system or to leading a major national nursing organization.
She's clearly someone not slowed by fear, apathy, or self-doubt. And that's good, because her forward momentum began with that gut decision to help a patient, despite the fact that she had limited hands-on patient care experience.
"I was just so curious about what it was like to live as a patient, and what patients go through," Mertens said. "I was drawn to do cross-cultural nursing and to understand what my role was in all of this."
Mertens stayed up all night by her patient's side.
"As I sat with the patient, I thought, 'Please don't die while I'm here.' I knew about the clinical work that hospital nurses do, but being in the patient's home was different. It was more about listening and understanding how this patient dealt with her illness. She told me how I could best help her."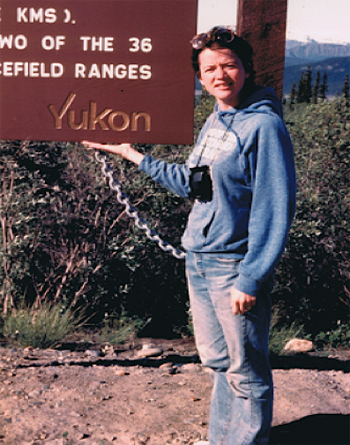 Mertens, traveling to Alaska in the mid-1980s,
takes a break near the Yukon's Kluane Lake.
Fortunately, the patient didn't die on her watch, and Mertens describes the experience as one that cemented her desire to be a nurse and launched her career. The experience also prepared her for what she would begin to learn in public health, which was a good thing because the next part of her journey led her to Alaska.
Mertens worked as a staff nurse at Fairbanks Memorial Hospital from 1984-85, but her curiosity kept her on the move. Later in 1985, she traveled into the state's remote interior, taking a two-year position as a Public Health Research Nurse with the Centers for Disease Control (CDC). As part of the CDC's Hib Vaccine Research Project, Mertens served as a program administrator and RN care coordinator working in Fairbanks and Athabascan villages.
"Sometimes I was the only nurse, although there were community health aides. And remember, in those days, there was no Internet."
The experience drew her more deeply into public health, and also set the seeds for the nurse leader and executive she would become.
"I learned about working with various levels of staff and multidisciplinary teams. In rural communities, people really chip in to help each other. We really appreciated each other's roles out in the community. I also met great nurses. They are the ones who helped shape me and taught me the importance of teamwork."
The Next Phase
After Alaska, Mertens continued to pursue her career in public health nursing and epidemiology, taking positions at the University of Washington Medical Center and the Seattle King County Department of Public Health. She eventually landed at Harborview Medical Center in Seattle, where she worked as a manager in patient education and outcomes. There she opened a new Patient & Family Resource Center and developed ambulatory care quality improvement and regulatory preparedness programs.
"At this point, I had to develop the advocacy role that I realized was so important to nursing," Mertens said. She also realized how many aspects of nursing practice weren't clear-cut. She had to embrace innovation and envision what the nursing roles – and the roles of the other health care team members – could be.
"I think leadership is messy now. Messy in the sense that there's not just one way to lead. Many times it's motivating, inspiring, and influencing others who know best at the point of care. And, we don't always know where our decisions are going to lead. Health care boundaries are changing and crossing the continuum, roles are rapidly evolving. We partner more with other disciplines, so it's blurrier."
Mertens credits AAACN with helping her make personal connections and career choices she would not have made otherwise. It was Marianne Sherman, MS, RN-BC, AAACN's 2014-15 president, who led her to become more involved in the organization.
"Marianne visited me while on a trip to Seattle and talked about her ambulatory care nursing work in Colorado, as well as the resources within AAACN," Mertens said. She was intrigued, and followed up Sherman's visit by attending the 2009 AAACN Conference in Philadelphia.
"I felt like I met my people," she said. Mertens joined the AAACN Leadership SIG, and "they were so encouraging." She began volunteering and working on the SIG's projects, eventually becoming the chairperson.
Visionary Leadership
With three decades of experience under her belt, Mertens is Associate Chief Nurse and Ambulatory Care Assistant Administrator at Harborview Medical Center in Seattle. After serving on the AAACN Board of Directors since 2015, she is now AAACN's president.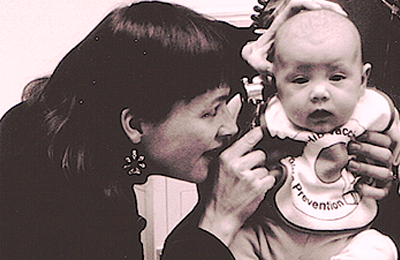 Providing well child care as part of the Alaska Hib Vaccine Project (late 1980s).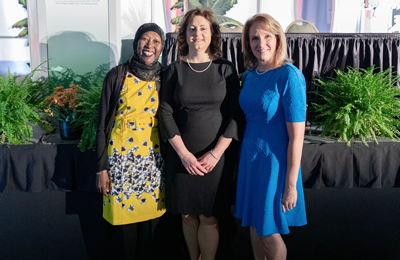 The BOD oversee the business and fiscal management, provide strategic direction, and active leadership for AAACN.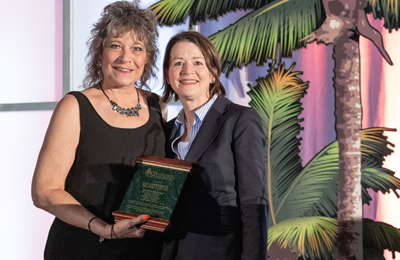 Mertens connects with a AAACN 2018 Conference attendee.
In both roles, she functions much the same way she did when caring for her scleroderma patient or helping villagers in remote Alaska, fueled by curiosity and passion.
Mertens shares the advice she would give to nurses who are climbing their own career ladders and feeling the power of leadership grow within.
"Navigate it – all of it – with curiosity and courage. Set the vision. Clarify the aim," she said. "When you clarify the aim, it's easier to get people to work together."
As AAACN president, Mertens recognizes that her role is "to inspire and influence."
"It's all about mentoring people. You sometimes have to tap them on the shoulder to get their attention. We're all so busy in our everyday lives and you don't always think of the possibilities," she said. "As AAACN Board members, we need to keep planning for the future of ambulatory care nursing and the organization. You spot someone, you set them up to be a future leader, and you provide leadership opportunities. We need to do more of that, sponsoring people. It's a big part of the Board role, I don't think people realize that."
Mertens also emphasized the importance of AAACN members voting for their leaders. The 2018 vote, which stays open until December 3, decides the future of the organization and helps the world understand the value of ambulatory care nursing, as well as the entire nursing industry.
"It's so important for [AAACN members] to choose the leaders who reflect who they are," Mertens said. "We need diversity in our leaders. That's where we're going to get innovation."
In addition, Mertens wants to spread the word among all AAACN members that patients need to understand what they do.
"We have to do a better job describing what we do with patients and individuals in the communities we serve," she said. "The term 'ambulatory care' can be difficult for them to understand."
Powerful Advocates
Mertens fully believes nurses are the ideal – and most versatile – health care providers who should be leading teams and advocating for the future of health care.
"In order to really make a difference in health care, nurses at all levels have to lead from where they are," Mertens said. "Today, we are being asked to cross the traditional care boundaries. We now do many things, like coordinating follow-up care and transportation, linking patients to community resources for better health, and directing interdisciplinary teams, roles that we never had in the past."
"I think that's where a lot of the excitement is, the new roles we now have. We really need to embrace the changes and the unknown and just go for it with our aim and outcomes in mind. It's not always going to work out, but the outcomes may be beyond what you imagined. I think that's how you show your value. This is what will transform health care."
AAACN: Here to Help You On Your Leadership Path
Inspired by Kathy Mertens's story? AAACN supports you in your leadership goals. We offer you many options to hone your skills and connect with nurses in the AAACN community who are ready to mentor and encourage you.
Leadership Opportunities:
Explore Volunteer Opportunities:
Leadership Resources
Copyright © 2018 by the American Academy of Ambulatory Care Nursing. All rights reserved.